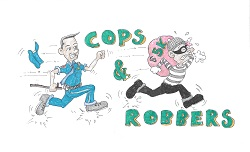 *** New Info 8-25-21****
We are pleased to announce that we will be putting on the Cops and Robbers 5K again in 2022. The race date is May 21st!
The Patrolmens Benevolent Association is hosting a 5k run/walk to benefit Cancer Services of Northeast Indiana. The event takes place on May 22nd. at Shoaff park. The 5k begins at 10:00. The cost of the event is $25 if you register before May 1st and the price increases to $30 after that. This event is Cops and Robbers themed and when you register you will get to chose what side you want to be on. Both teams have their own team shirts that everyone will get. In addition to the shirt, every one who registers will get a bracelet from Emily Kai Jewelery. Pictures of the shirts can be found on the registration website www.getmeregistered.com. To find our event search for Cops and Robbers in the search box. If you have Facebook there is also an event page there under Cops and Robbers 5k Run/walk.
https://secure.getmeregistered.com/get_information.php?event_id=MTU3OTMwNDc4OTgwNzk71EtuIrmKFFCx
There will be prizes for the top 3 finishers both male and female in the following age groups:
0-19 years
20-29
30-39
40-49
50-59
60+
Top over all finisher
Top masters finisher (over 60 years old)
Packet pickup for the event takes place from noon to 6:00 pm at the FOP lodge located at 2125 Olladale Dr.
We have teamed up with some amazing partners to support the event. Jacks Donuts is providing donuts for after the run, Finisher prizes are from Moe's Southwest Grill, Crossfit Praus, and Advanced Therapy and Performance. This is an officially timed event so it is eligible for reimbursement under the Healthy Lifestyle Benefit through the city for you and your spouse if they are on your insurance plan. We are working on more sponsors and will update this page when we have more information finalized. If you are not much of a runner/walker but still want to be a part of this amazing event we have volunteer opportunities as well. If you have questions feel free to reach out to me.
Ealing
*** Edit 3-17-2021***
Texas Roadhouse has agreed to provide a prize to the top overall finisher. This prize is a diner for 2 ($30 value), bottle of seasoning and a bucket of peanuts! They also have donated free appitizer coupons that we will be randomly giving out to registered participants. Also, Ace DJ productions will be there at the start/finish line playing music. Inside the pavillion the award winning acoustic duo Ben Jammin' will be playing. Don't forget to get registered today! We look forward to seeing you on May 22nd.
Page Last Updated: Aug 25, 2021 (07:14:10)